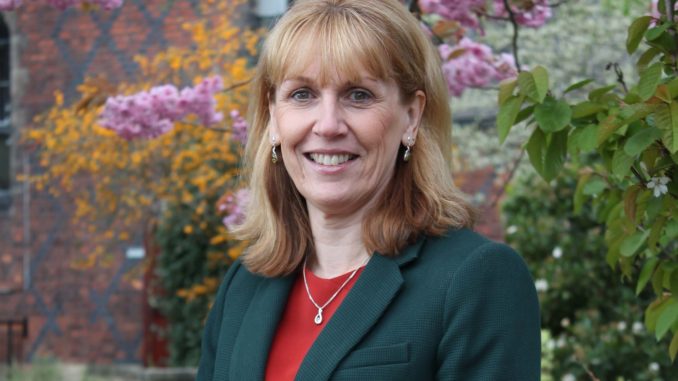 To help launch our new website, Headteacher Sarah Burns spoke to Ryan Grant, of the Old Sandbachians' Association. Sarah has seen some significant changes to Sandbach School during her time as Headteacher. Now into her 12th year in the role, she's been explaining that despite preparing students for modern-day education, the school has retained the long-standing values upheld by pupils and staff alike for decades.
Read the first section of her two-part Q&A with the Old Sandbachians' Association below…
OSA: Firstly, Sarah, tell us a little bit about your day-to-day role and how the school currently operates
SB: The school is expanding. We've got approximately 1,350 boys and some girls now in the Sixth Form. In terms of my day-to-day role, it's health and safety, site management and the education of those boys and girls, essentially. There's also clearly an element of staff management as well. The health and safety is critical at the moment, while we've got this new build on site; we're having a building taken down right at the heart of the school. Keeping the site, staff and students safe is really important while there's only one way around the site. That takes up some of my time but, as ever, the role of Head Teacher is really varied because there are so many people that I work with. I can be working with parents, students, staff, people at local or national level, and we're also an academy, so we have a direct relationship with the Government. I can be working with any of those people on a day-to-day basis.
OSA: Having been at the school for over a decade, you must have seen some significant change in that time.
SB: I'm now in my 12th year in my role. There has been huge change, but the basics of the role are the same. The way in which the school is structured has changed; we used to be an 'independent other school' and we're now an academy, so there are different processes we have to adhere to. The demands from OFSTED increase constantly, so we always have to ensure we meet our statutory demands from the Government. Curriculum demands have changed too; exams have become tougher at both A-level and GCSE level, and that's a massive consideration for all teachers and students. Things are always changing, things are in vogue and then go out of vogue, so you're constantly being asked to reinvent the wheel, but the essence of the job and the satisfaction never changes. It's always been about working with young people and helping to change lives.
OSA: With that said, is there anything you're particularly proud of?
SB: I'm really proud of the fact that the alumni – the students that have left – come back into the school, what they say to me is that the essence of the school is still the same. The traditions and feel of the school, the way the boys are being brought up as Sandbachians, it's still there and it's really important to us. We want them to identify as Sandbachians, and when they talk to the old boys, they get that same feeling because it's a constant. Yes, we're educating them for a modern era with new technology and new exams, and in many ways there are a lot of new demands upon students, but at the bottom line we are educating the whole boy. The introduction of social media has changed things massively, but we educate them with all of the extra-curricular and leadership opportunities that we have. All of those things still resonate year after year, and that's really important to us.
To be continued….
Ryan Grant is a long standing friend of the OSA.  He is currently Managing Editor of the English Football League and you can follow him on Twitter @RyanGrant01