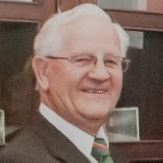 Welcome from Joe Riley, President:
Our new website will bring together news about our Old Sandbachians events, the school, old boys and other information we think you may be interested in.
We will bring you interviews with teachers old and present, and articles and memories going back as far as we can
It is also important for us that all Old Sandbachians feel that this is a website that they are part of, and to do that we to need you to contribute to its content. So we invite you to send us any photos, memories, news or stories you may have, from your time at school or since you left.
Our main opening feature is
an interview with Head Teacher Sarah Burns
. I hope you enjoy it.
More