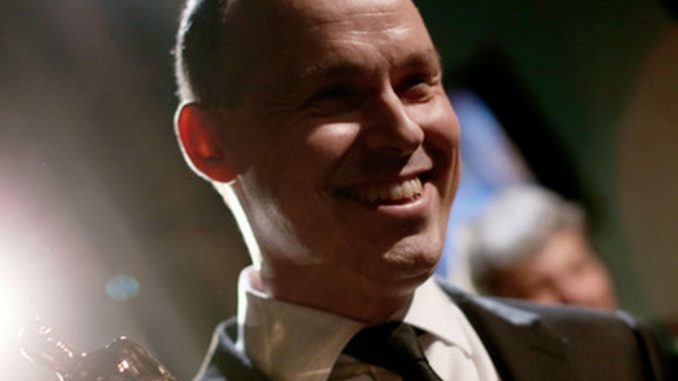 This is an extract from a full interview with Paul Franklin
To read the full interview with Paul, go to the exclusive Old Sandbachians' Members Area.
Not yet a member? Join
HERE
!
"We went to see a production of Macbeth. I blagged my way onto the trip after making an impassioned plea, and many years later got to work with one of the actors on Inception. That was a moment when things came full circle. It was Sandbach School that had given me that opportunity."
The transition from school to academy may well be a common one for students across the country these days. Going from school to an Academy Award, however, is a different proposition entirely.
Interview by Ryan Grant
Paul Franklin is one of a select group of outstanding professionals to have proudly achieved the latter. Having joined Sandbach School in 1977 at the age of 11, Franklin's work as a visual effects supervisor has since taken him around the world and onto the sets of famous, critically-acclaimed films including Inception, Interstellar, The Dark Knight and Venom respectively, often working closely with world-renowned director Christopher Nolan CBE.
While popular '70s and '80s television shows including Doctor Who provided much inspiration throughout his childhood, it was his education and involvement in numerous after-school activities which provided the platform to go from extracurricular to extra-terrestrial.
Franklin admits moving from a small primary school in Brereton village to the vastness of Sandbach School was the first "spooky experience" of his youth and, as a love for astronomy and science fiction quickly developed, many more would surely follow thereafter.
"I was moving to a school with a whole bunch of kids I'd never seen before," he says, sitting down for a coffee in Soho, in the West End of London, where he is based today. "We'd been wearing uniforms at primary school but it was more strictly enforced at Sandbach and it looked quite smart. It was also a much longer journey for me because I wasn't going to the local village school anymore.
"I remember thinking at the time 'this is going to be much tougher than primary school' just because of the homework and the scale of the place; I think Sandbach had 700 or 800 students at that point and got even bigger while I was there. One thing you were really aware of that year was the history of the school, because it was just after the tricentennial and there was still evidence of it all around the school. They had flower displays with the dates on by the cricket pitch and I remember that first day really clearly – meeting the masters and entering this new world."
Indeed, with Holmes Chapel's nearby comprehensive school yet to be established, Sandbach School represented a step into the unknown for Franklin and many others, but it was here that he would meet like-minded people, those who shared his affinity for art and comic books, among other hobbies.
"Those are probably my fondest memories, the friends I made" he adds. "At Sandbach, I formed lots of friendships based on mutual interests and I'm still in touch with people on Facebook and Twitter.
"One friend of mine who joined a couple of years later, Peter Swailes, had an interest in art like me and it was through the school that I met him – I'll always remember painting a mural on his bedroom wall!"
Of course, it wouldn't be until several years later that computers were introduced en masse to the students of Sandbach School, giving Franklin and his friends more common ground and room to explore their imagination.
Before then, he would marvel at films and books, soaking in every available piece of information on how they were created, without knowing that he would one day be responsible for many iconic movie moments of his own.
"My inspirations are very British," he says. "I was inspired by Doctor Who in the 1970s and remember Star Wars also having a profound effect on me as an 11-year-old. I was tremendously excited; I bought every bit of literature and couldn't afford many of the toys, but did lots of Star Wars drawings.
"Those Hollywood films felt a bit unapproachable because they were clearly very expensive to produce, they were very slick, and as a child you couldn't really see a way into them. Doctor Who was a little more home-spun and you could imagine building your own space craft out of cereal boxes, and the guys who worked on those shows would show up on Blue Peter to explain how they did it.
Continued in the Members Area…
This is an extract from a full interview with Paul Franklin
To read the full interview with Paul, go to the exclusive Old Sandbachians' Members Area.
Not yet a member? Join
HERE
!