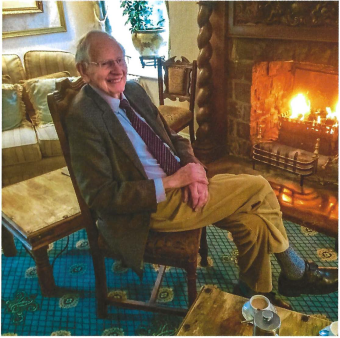 Obituary: James (Jim) Steele
1929-2021
It is with the deepest sadness that we are letting you know of the death of James (Jim) Steele aged 91 in late September.

Like so many of his contemporaries, Jim was an Old Sandbachian through and through, being proud of all that the school stood for and very grateful for the education it gave him. He often spoke of the strong family connection with Sandbach School – his brother David (6 years older) had attended the school but tragically died of a sudden illness aged 12. Many years later, Jim was very pleased when his son Nigel followed on, first in the Junior School and then in the Senior school. (1968-1978). All three were keen members of Lea house (particularly given the Lea family connection). It was very special for Jim and Nigel to attend an Old Sandbachians dinner together.

Jim grew up in the family home in Haslington, went to Haslington Council School and then on to Sandbach School between 1941 and 1946.

During his time at school he worked hard academically to achieve his school certificate and he did well in athletics, particularly running and cross country. He could still recall the cross country route in detail.

After school he became a well-respected solicitor in North Staffordshire and South Cheshire having joined his father in the practice at Kidsgrove, where he worked until his retirement in 1989.

He had met Margaret, a domestic science teacher at Haslington Primary School, in 1953, then married and set up home in Alsager where they had three children. Sadly he was prematurely widowed in 1983. However, becoming the proud grandfather of 7 grandchildren and great grandfather to 11 great grandchildren brought renewed and lasting joy to his life.

As he became less mobile in the last few years he moved to a residential care home in Colwyn Bay. He would often recount stories about some of the teachers, including Messrs James, Crockett, Hubbard and Hall and still had his copy of Gaudeamus Igitur which he would sometimes sing! The family had planned to have shared more of Jim's personal memories of his school life with the Old Sandbachians but with limited visiting, sadly we never achieved the hoped-for interview.

Although he spent his last few years in North Wales, Jim had lived in Alsager for sixty years. He was a Cheshire lad, with strong family roots in the Crewe area. He was a lifelong, committed Methodist and a keen walker with a love of the outdoors.

Jim was much loved and is greatly missed by his family and friends.